Our first Spring Rejuvenation Retreat was held at the Grande Hotel in Hepburn Springs. It was a fabulous weekend with a wonderful bunch of humans. You will forever hold a place in my heart!
Each time I facilitate a retreat I am blown away by the magic that is created. The retreats give us the opportunity to connect with others on a deeper level by providing a shared space with like-minded people who are maybe feeling or experiencing the same circumstances or pressures in their own lives. We find a deeper connection with our bodies and minds, to the foods we eat, the air we breathe, to nature and the land we are on. We are taken on a journey to create awareness away from distractions and given space to allow ourselves to discover and evolve!
I had a truly wonderful time and appreciate everyone's input and openness, to trust us and to try new things and experiences. Thank you for allowing me to take you on a yoga and meditation journey experiencing techniques such as yoga nidra, yin yoga, vinyasa flow, gratitude, breathing exercises and guided meditation.
Thank you to the guests for participating and sharing in the bush walk to use the senses to take in the sights, smells, sounds, tastes and touch of the natural environment and joining in the cooking classes.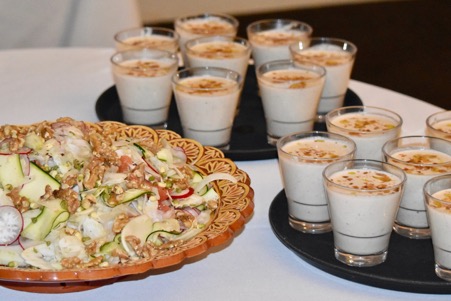 Finally, thank you to my wonderful team for preparing, cooking and serving the most delicious and fresh food I have tasted in a while and for all the love and care you put in to making it. You could truly see your passion in the presentation of the food, the flavours and the explanations that linked different ingredients to our own unique constitution. Thank you Amy for teaching us about the various times of the day our bodies are most active/inactive and when is the best time to eat to aid digestion.
The next Spring Retreat will be held at our new Bend of Islands Studio.  For more information contact Jess Farrelly on 0423 227 350 or contact@essential-being.com